In order to get a driving license in Dubai, it is essential to pass the RTA Theory Test. However, preparing for the test can be a nuisance if your background education has fallen behind in English. In order to prepare for the test download this app. Moreover, you can prepare for questions and answers relevant to the RTA Theory Test in Urdu on the app. This can be of great assistance in making you understand what you will be up against.
RTA Theory Test URDU
The RTA Theory Test is an integral part of the process leading to a person attaining a driving license. Without diligent preparation of rules in official handbooks, it is not possible to pass the test. And the UAE government maintains the right to withhold the license until the subject passes the RTA Theory Test.
The RTA Theory Test includes 35 questions about guidelines on safe driving, traffic signals, and road hazards. There are two sections in this test, one with multiple choice questions and another with questions directly about the type of license the applicant wants. Out of the 17 questions in the first section, the passing criteria is a correct answer to 11. Also, out of the 18 questions in the second section, the applicant has to get 12 correct to pass.
RTA Theory Test Questions in Urdu
The app to help you prepare for the RTA Theory Test has a whole section with practice questions and answers, all in Urdu. With a user-friendly interface and authentic content, this app can be a lifesaver for many.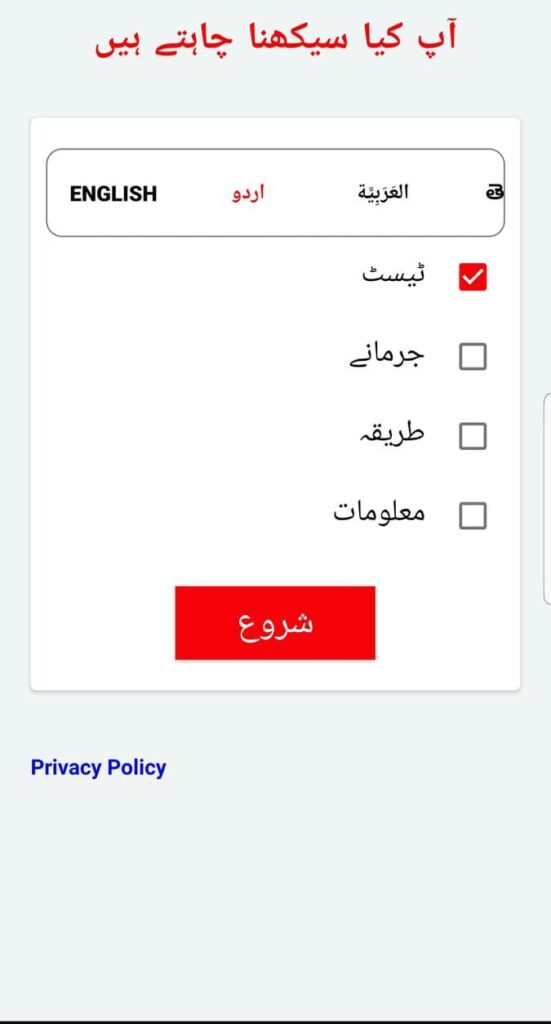 The app has options for preparation in English, Urdu and Arabic. In the Urdu section, we can choose between information on the RTA Theory Test, the fines for traffic rules violations, the method to get a license as well as general information.
As visible in the screenshot, the section for the RTA Theory Test questions in Urdu has several mock tests. Each of these tests brings about a different difficulty level. Gradually moving up the difficulty level can help the applicant increase the stage of their practice. Once the applicant masters all the levels, they are capable of appearing in the real thing as well.
The free version of the app offers the first two difficulty levels of training. However, the other two levels are also available for unlimited use with the ad-free Pro version of the app. This version is available to users only for 300PKR.