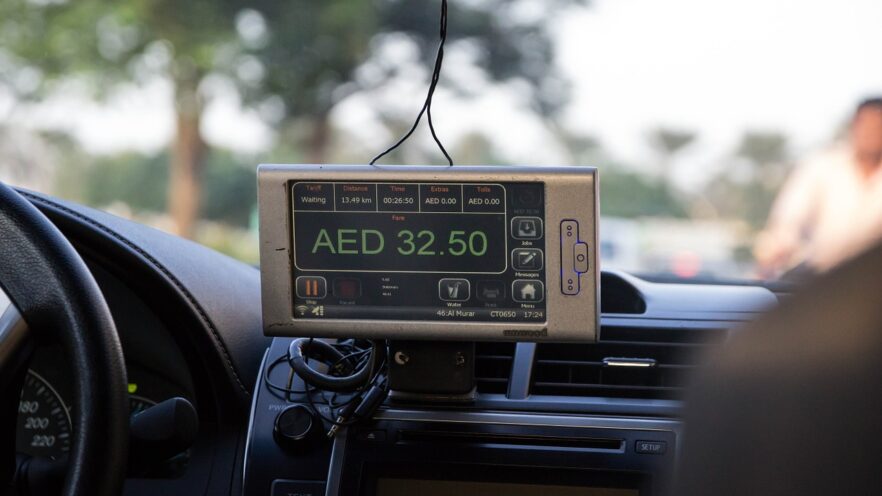 How to become a taxi driver in Dubai: As a thriving metropolis, Dubai draws in numerous tourists and expatriates, creating a high demand for taxi services. This makes taxi driving an attractive and potentially lucrative career option for immigrants. With the aim of earning a decent wage to support their families back home, many skilled drivers are eager to pursue this sought-after profession in the vibrant city of Dubai.
It is essential to adhere to the laws and regulations governing taxi driving in Dubai, as using private cars for rental purposes is illegal and can result in hefty fines.
To work as a taxi driver in Dubai, one must obtain a permit through the Roads and Transport Authority (RTA).
Become a Taxi Driver in Dubai
Eligibility and Requirements
To be eligible for a taxi driver permit in Dubai, applicants must:
Be between 21 and 65 years old.
Pass a foundation training course and its associated test.
Pass a medical fitness test.
Obtain a criminal investigation certificate.
Have their residence under the name of the same sponsor.
Application Process
Applying for a taxi driver permit in Dubai is a straightforward process:
Visit the RTA website and log in using your username and password.
Select the service, then enter the required details.
Pay the service fees of 200 AED, plus 20 AED for Knowledge and Innovation fees, using a credit card.
Receive the permit through the Dubai Drive application immediately after paying the fees.
Permit Validity and Benefits
The taxi driver permit is valid for one year, allowing drivers to legally work as taxi drivers for franchise companies in Dubai. This offers a chance to earn a stable income while providing valuable services to residents and tourists alike.
Working as a Taxi Driver in Dubai
To legally work as a taxi driver in Dubai, applicants need to register with government-approved franchise companies such as Arabia Taxi, Dubai Taxi, Uber, and Careem. These companies collaborate with the Roads and Transport Authority (RTA) to screen applicants and ensure the best and safest experience for customers.
The application process includes providing a UAE commercial driving license, proof of residence, vehicle registration and insurance documents, and completing an online screening process for certain companies like Uber.
You can earn good money by working as a taxi driver in Dubai.
How to Get RTA Card for Uber in Dubai
To obtain an RTA card for driving with Uber in Dubai, you must first have a valid UAE driving license and register with Uber. Complete Uber's onboarding process, pass the RTA foundation training course and associated test, undergo a medical fitness test, and obtain a criminal investigation certificate.
Once you've met these requirements, visit the RTA office with the necessary documents, fill out an application form, and pay the required fees. After your application is approved, you will receive your RTA card, permitting you to work as an Uber driver in Dubai.
Tips for Success in Taxi Driving
Know your city well: Familiarize yourself with your city's streets, landmarks, and popular destinations. Understanding the most efficient routes and shortcuts will help you navigate smoothly and impress your passengers.
Maintain a clean and comfortable vehicle: Keeping your taxi clean, tidy, and comfortable is essential to providing a pleasant experience for your passengers. Regularly clean your car, both inside and out, and ensure that air conditioning and heating systems are in good working order.
Provide excellent customer service: Greet passengers warmly, help them with their luggage and engage in a friendly conversation when appropriate. A positive attitude and good communication skills will leave a lasting impression and may result in repeat customers or generous tips.
Stay updated on traffic conditions: Utilize traffic apps or listen to traffic reports to stay informed about current road conditions. Being aware of traffic jams, road closures, or accidents will help you avoid delays and find alternative routes.
Be punctual and reliable: Arrive on time for scheduled pickups and strive to get passengers to their destinations as quickly as possible. Consistency and reliability are crucial for building a loyal customer base and receiving positive reviews.
Use a reliable navigation system: Invest in a high-quality GPS device or navigation app to help you find your way, especially when traveling to unfamiliar locations. Accurate navigation can save time and fuel while reducing the risk of getting lost.
Keep up with vehicle maintenance: Regularly service your vehicle to ensure it runs smoothly and efficiently. Staying on top of maintenance not only prevents breakdowns but also helps you avoid costly repairs in the long run.
Stay calm and patient: Taxi driving can be stressful, especially during peak hours or in heavy traffic. Maintain a calm and patient demeanor, even when facing challenges on the road. This will help you make better decisions and keep your passengers at ease.
Learn basic phrases in multiple languages: If you work in a diverse city or tourist destination, knowing basic phrases in several languages can be beneficial. Being able to communicate with passengers in their native language can create a more comfortable and enjoyable experience for them.
Track your expenses and manage your finances: Keep records of your earnings, expenses, and mileage to help you manage your finances effectively. Tracking your income and outgoings will enable you to identify areas for improvement and make better financial decisions.
We hope the how to become a taxi driver in Dubai guide helps you with finding a taxi driving job in Dubai.