It is essential to pass the RTA Theory Test in order to eventually qualify for a driving license in Dubai. This test precedes a series of other tests. The Road and Transports Authority mediates these tests and decides upon the results. It is also imperative for the applicants to practice and prepare well before taking this test.
However, a large proportion of these applicants are not natives of Dubai. They might not have a comprehensive grasp of English either. To overcome this, you may download this app to help you prepare. It comes with the feature of the RTA Theory Test in Telugu questions and answers.
RTA Theory Test Telugu
The RTA parking test and the RTA road test follow the RTA theory test in the process of getting a Dubai driving license. The theory test, therefore, sets the basis for qualification for the rest of these tests. However, one needs to know what they are facing in the exam centre before going in.
There are a total of 35 questions in the RTA Theory Test. Out of these, 17 are multiple-choice questions about road hazards. These questions also talk about traffic signals. In order to pass, it is compulsory to score 11 out of these 17. The other 18 focus on the specific type of license the applicant wants. Here as well, the applicant must score 12 out of these 18 if they are hoping to pass.
RTA Theory Test Questions in Telugu
If you are a native Telugu speaker and are having difficulty preparing for the RTA Theory Test in English, this app is for you. It covers four languages: English, Urdu, Arabic, and Telugu. There are separate options to choose from in all four languages. The app then provides information on the test and how to do it. It also gives a list of fines you could confer. However, the star of this show is the questions and answers section.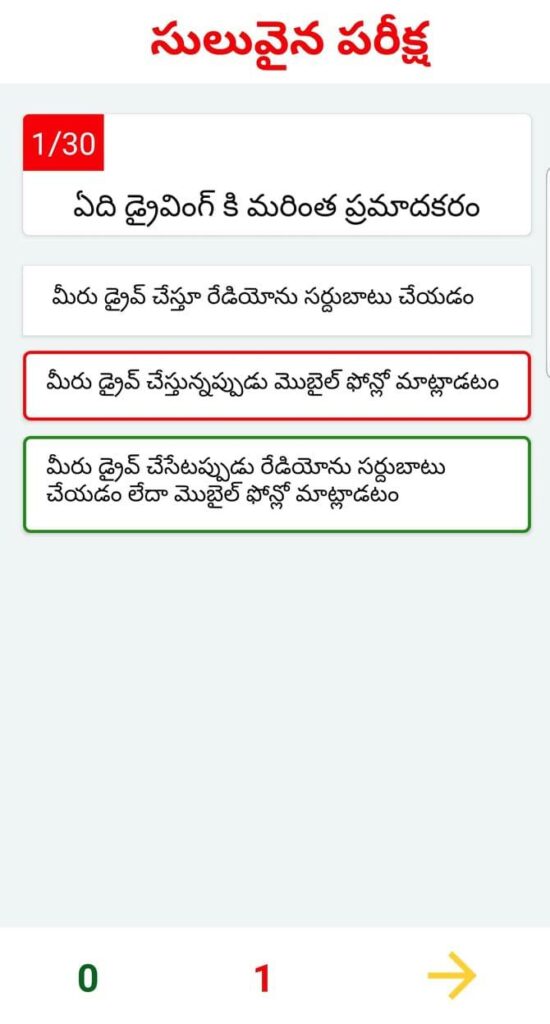 Out of these four levels of difficulty, only two are accessible in the free version of the app. By upgrading to the pro version of the app, you can unlock all four levels of difficulty in the app. Once you have extensively practised in all four levels, it is quite easy to see where you stand in terms of your preparation for the test.
The major advantage of this app is that it has questions about rules directly from the official RTA handbook. Therefore, learning and understanding these rules in your own language will become the boost you need to pass this test.