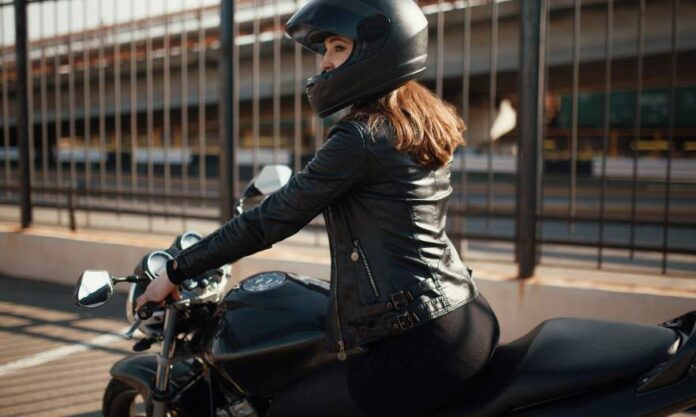 The motorcycle license Dubai is becoming increasingly popular, especially amongst younger drivers. With this category 1 driving license, you can not only take to the roads of Dubai but also travel between other emirates. Students looking to get their motorcycle driving license must meet specific requirements, such as being at least 17 years old.
The procedure to apply for a motorcycle license is the same in all emirates.
If you are interested to know about other categories of driving licenses in the United Arab Emirates, there are 8 different types of driver's licenses in the United Arab Emirates.
Motorcycle License Dubai
When applying for a motorcycle license in Dubai, you'll need to take both a theory and practical test before obtaining your full driving license. The theory test assesses your knowledge of motorcycle laws and regulations relevant in Dubai.
Our RTA Theory Test app allows you to practice for the theory test without hassle. It's free, so get it and start preparing for the theory test with all the relevant questions and answers.
Whereas the practical test will assess your capability behind the wheel. After passing both exams, you'll receive your motorcycle driver's license, which is valid for five years, after which it needs renewal if you want to continue driving in Dubai.
The motorcycle license course will teach applicants how to safely and responsibly drive a motorcycle on the roads of the UAE, with an emphasis on defensive driving techniques. Applicants should also expect to learn about road safety flags, traffic signs and signals, and basic vehicle maintenance procedures. Additionally, motorcycle riders must carry a valid insurance policy at all times before they can legally ride their motorcycle in Dubai.
It's important to note that motorcycle riders must wear helmets while riding in Dubai and be aware of the speed limit.
Required Documents
To start, motorcycle riders need to gather the essential documents for the application. These include:
An original Emirates ID or digital copy from the ICA app,
A valid visa issued in Dubai, and
An eye test report (done before filing with RTA).
Additionally, if motorcycle riders have held a motorcycle license from another country within the same vehicle category (e.g., motorcycle), they must provide
An original valid or expired biker license that has expired within 10 years
A letter of confirmation from their country's consulate if the riding license was lost.
The permit must have its hologram visible and
Translated into English or Arabic if it is not already in one of those languages.
In general, motorcycle riders should keep in mind that all documents required for a motorcycle license are subject to approval by RTA. For this reason, motorcycle riders should make sure that all documents are up-to-date and accurate before submitting them for review. It is also important to note that motorcycle riders may need additional letters from their country's embassy if RTA denies their motorbike license.
Additional Documents For:
Female customers (younger than 21 years) who wish to take training by a male instructor:
Obtain a no-objection letter signed by the sponsor
UAE nationals or holders of company visas need to obtain a no-objection letter issued and signed by themselves.
Copy of the sponsor's Emirates ID
Customers holding Partner visa:
Copy of a valid UAE trade license
UAE Marsoom / Bedouin:
Valid and original marsoom letter
Valid and original passport
One passport-size photograph
Eye test report
People of Determination:
The original medical report from Rashid Hospital must be no older than two years
The Sanad Card from the Community Development Authority is an optional document that can be provided if required.
Pregnant women:
A no-objection letter signed by the sponsor
A 'Fit to Drive' certificate issued by a consulting doctor is required
File transfer from other institutes within Dubai or other emirates:
Original RTA file from the previous driving institute or driving schools.
A clearance letter from an earlier driving institute or driving school must be signed and stamped by an authorized signatory
Must provide proof of attendance at theory lectures from their last driving institute
A valid or invalid RTA learning permit is required. However, this does not apply to applicants from other emirates.
Training Sheet (if practical training is completed)
Driver visa holders (excluding Taxi Company):
A medical fitness report from the RTA-approved medical centers or hospitals is required.
Motorcycle License Dubai Procedure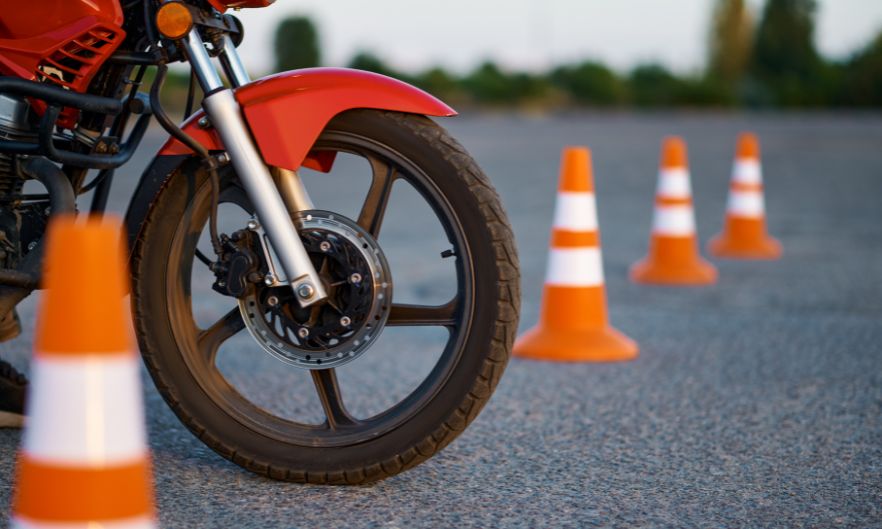 The motorcycle license Dubai procedure is divided into 9 steps. You can follow these steps quickly and get a biker driving license.
* Registration
The first step is registering online or in person at the driving institute. It is essential to have all the necessary documents we listed earlier for the registration process.
* Theory Lectures
Once registered, you must attend lectures and take a theory test based on motorcycle safety, road rules, regulations, and traffic signals. Attendance of 8 classes is mandatory to gain the necessary knowledge and information provided. With each lecture, you will be equipped with the following:
• Lecture 1: Introduction to Motorcycle
• Lecture 2: Traffic signs
• Lecture 3: Risk Management
• Lecture 4: Driver Condition
• Lecture 5: Driving Environment
• Lecture 6: Rules of the road
• Lecture 7: Hazards & Emergencies
• Lecture 8: Safe Driving
* Theory Test
After attending the motorcycle theory lectures and gaining knowledge about motorcycle driving, you need to pass a theory test. The motorcycle license Dubai theory test consists of 30 multiple-choice questions. You must answer at least 20 questions correctly to pass the motorcycle theory test.
* Practical Traning
After passing the motorcycle license theory test, you will need to attend practical training sessions. These motorcycle driving classes will help you to become a confident motorcycle driver. You will be provided with motorcycle training bikes and instructed to ride within the motorcycle driving test track and learn motorcycle riding techniques.
* RTA Yard Test
Once you complete the motorcycle driving classes, it's time to take the RTA yard test. The RTA yard test consists of learning motorcycle control and motorcycle parking skills. You must demonstrate your motorcycle riding skills to pass the motorcycle license RTA yard test.
* Hours Night Training
Before taking the motorcycle driving test, you must attend 2 hours of night motorcycle riding training. This motorcycle driving class will help you learn motorcycle riding techniques at night.
* Initial Driving Assessment 
The initial motorcycle driving test is the 7th step of the motorcycle license procedure. You will be assessed on how well you can ride a motorcycle, follow motorcycle driving signals, and motorcycle parking techniques.
* RTA Road Test
The motorcycle driving test is the final motorcycle license procedure. You must demonstrate your motorcycle riding skills to pass the motorcycle license RTA road test.
* Driving Test Collection.
After passing the motorcycle driving test, you will be issued a motorcycle license. This motorcycle license will allow you to ride a motorcycle legally in Dubai.
How Much Does It Cost to Get a Motorcycle License in Dubai
The cost for bike license packages can vary, depending on what type of package you require.
The Normal bike license package typically costs between 4,000 AED and 5,000 AED. This package allows bike owners to get their bike license on the first attempt. If you fail the test, extra classes will cost you more money.
The Weekend bike license package is another popular option and typically costs between 4,500 AED and 5,500 AED. This package offers busy bike drivers weekend scheduling options to complete the bike licensing process.
For those looking for even more flexibility when obtaining their bike license, there is the Shifting Flexible package which usually costs between 5,500 AED and 6,500 AED. This package allows bike owners to practice bike riding at the time which suits them the best.
Aside from these packages, there are also fixed-price bike licenses available which may cost more than the standard packages, but you don't have to pay extra if you fail any test. You can take additional classes and get ready for the next attempt.
It is essential to do your research and compare bike license packages before making a final decision.
How long does it take to get a motorbike license in Dubai?
The motorcycle license Dubaiprocess typically takes about six to eight weeks to complete. You will need to attend motorcycle driving classes and pass a theory test and practical tests. Once you have completed the motorcycle license requirements, you can apply for the motorcycle license. The motorcycle license usually takes at least one week to be issued.
Can I drive a motorcycle with a car license in UAE?
No, you cannot drive a motorcycle with a car license in UAE. To legally ride a bike in Dubai, you need to have a motorcycle license or motorcycle permit issued by the RTA. The motorcycle license will only be issued after passing all motorcycle driving tests and riding classes.
We hope this article has provided helpful information on the motorcycle licensing process in Dubai.